Wildlife to Watercolor Paintings
Meet Alison Nicholls, an Africa inspired Wildlife artist.
Having lived in Zimbabwe and Botswana, and frequently taking visits to Africa, beautiful wildlife inspires her to recreate exotic paintings with just a paintbrush and a canvas. While she currently lives just outside the intense, fast-paced New York City, her wildlife paintings suggest otherwise. Alison's light-colored, soft, watercolor paintings are very calming to look at. Between elephants, lions, cheetahs, etc., her paintings take these big, strong, intimidating animals and make them feel like the purest, friendliest, and sweetest creatures in the world.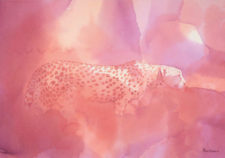 Having started her career in her late 20s, her passion for animals and wildlife encompasses more than just paintings themselves. Bigger than that, the well being of the African conservation as a whole sits at one of her top priorities as she explores her creativity in her wildlife paintings.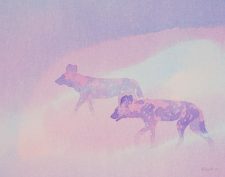 In order to help, Alison donates to the African conservation from every sale of her art. Her Conservation Sketching Expeditions to Africa allow her to learn about the issues of nature and then sketch and paint what she sees to bring awareness to it and to create stunning wildlife paintings. The diversity of her as an artist is what differentiates her among others.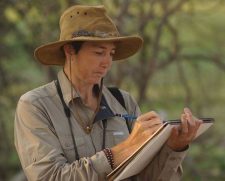 Alison's intricate, beautiful, quality pieces speak for themselves… and they tell us that they take time and planning. Getting her inspiration from her visits to African national parks and game reserves, she works on one piece at a time.
Starting with a sketch, bringing that sketch to the canvas using tracing paper, using multiple washes of color, creating layers and depth, and finishing with detail, each wildlife painting turns out unique. Alison spends a lot of time in the Kalahari and Namibia Deserts, and due to her careful technique with colors, viewers can really feel that heat in her paintings.
Alison also conducts Art Safaris for Africa Geographic in South Africa. The safaris are suitable for all skill levels and are designed to teach guests how to sketch wildlife quickly and confidently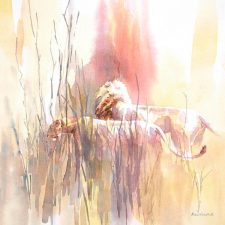 On the contrary to the warmth of her paintings, you can also feel a change in temperature with her use of cool colors. Less is more, and Alison's simplistic watercolor paintings of these elephants speak volumes. With the primary use of white and just a splash of color, these paintings are very eye-catching and attention-grabbing.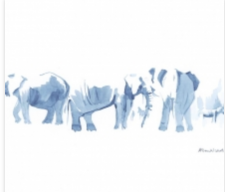 Her color choices might be explained by the simplicity of the rock art and colorful crafts found in parts of southern Africa that inspired her. She uses color to mimic mood or time of day rather than the exact colors of nature. The combination of the colors, animals, and imagination allow her to create some abstract pieces. Her simplistic color choices help her create a tranquil atmosphere which is why her paintings are, again, very calming to look at.
**************************************************************************************************************************************************
People often ask 'What is a good wedding gift for a couple who has everything'. We believe that a wedding is one of the most momentous occasions in a couple's life, and their wedding gift should be as unique as their marriage. We invite couples to celebrate it by creating a Mishkalo Wedding Registry. You can rest assured your wedding gifts will be unique, showcasing your personality.
Mishkalo carries a vast collection of unique artwork by highly esteemed artisans from around the world.
Read more about wedding planning ideas and tips at Mishkalo
11 incredibly useful wedding planning tips from experts
4 Reasons to get original art as a wedding gift
If you already live together, do you need a registry?
***********************************
**********************************************************************************************