Why Cohabiting Couples need a Wedding Registry
In today's world, most couples live together before getting married. They may already have their pots and pans and other household items and sometimes duplicate's. Most couples are confused as to whether they need a registry at all and if they do, what do they register for? It is time to rethink the concept of registries. Here are some perfect reasons to have a registry
The First Gift You Own as a Married Couple.
Your wedding gift is one of the first thing you will own together as a married couple. This is your chance to build your space and bring your unique couple personality into your newly-wed home, filled with things that bring you joy and will enrich your married like.—not just the household items that you don't really need. Wedding gifts should match your lifestyle, your interests, and your tastes as a couple.
Guests Will Want to Buy You Gifts
Your guests will want to buy you gifts to celebrate your big day no matter what, so why not give them something exciting to gift you for your wedding. Your guests will love to get you things that will add meaning to your life and be there for you to cherish for years to come.
Think Long-term about Your Future
Wedding registries have come a long way from the traditional pots and pan offerings. If you feel as though you already have all the necessities you and your partner could possibly want, register for gifts that add meaning to your life and will enrich and enhance your newly-wed home such as Art, Furniture and, Experiences.
The Four Criteria for Registry Gifts for Couples Living Together
When it comes to selecting items for a wedding registry for couples that already live together, there are four to consider:
Memorable pieces to collect
Unique experiences
Gifts that will remind you of your wedding day
Guests will feel good about the experience of gifting
What to Put on a Wedding Registry If You Already Live Together
Here are some unique pieces of Art that meet the criteria discussed above. Start your art collection as a married couple with some professionally curated art from emerging and established artists from around the world. You can get one larger piece that will  make a statement in your room or a few smaller pieces to start a gallery wall.
Memorable Pieces of Art to Collect
1)  Abstract Painting by artist Linda O'Neill.
Check out Linda's Gallery where you can choose something that speaks to you as a couple and, will always remind you of your newlywed days. Her vibrant and bright colors will add cheer and immeasurable beauty to your room.
A Love So Deep And Sweet by Linda O'Neill. Media: Acrylic. $1200 30' x 30'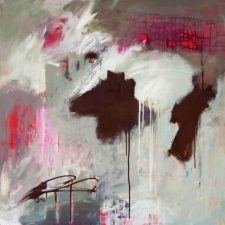 2)  Twilight Pendulum Art Glass Clock by Nina Cambron. Media: Fused Art Glass. $450 49' x 4'.

Contemporary and elegant, Twilight is the perfect definition of "art meets function". It's slim silhouette makes it the ideal solution for that hard to decorate skinny wall. The palette of French vanilla, black and iridescent amber results in a sophisticated addition to any room.
3)  Charcoal Portrait: Wedding Couple 9 by Gkikas Konstantinos. Media: Charcoal.  $400 20' x 14'.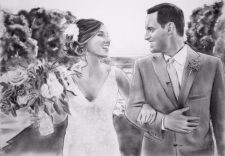 Artist Konstantinos says "I would love to draw a loved photo of yours into a charcoal portrait. I only use the best fine art charcoal and paper available for your drawing. My style is realism, and I do my best to bring out the emotions you have in the photo. I'm so happy to share my artistic style with you and potentially have my work find a place in your home. Creating beautiful work for wonderful people is the main reason I do what I do".
BUILD YOUR MISHKALO REGISTRY
*********************************************************************************************************************************