5 Incredibly Unique Wedding Gifts For Couples Who Have Everything.
As an engaged couple who already has everything for your home, have you ever wondered what unique wedding gifts to put in your registry?  Couples today are getting married later in life and have all the household items they need for their home. In fact, some of them have been living together for years and may also own two sets of things. What kind of wedding gifts would appeal to couples who already have everything they would need?
Here are top 5 unique wedding gifts, that couples who have everything can consider.
These gifts will be special and meaningful, and add value and pizzazz to their lives.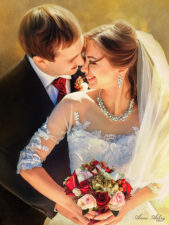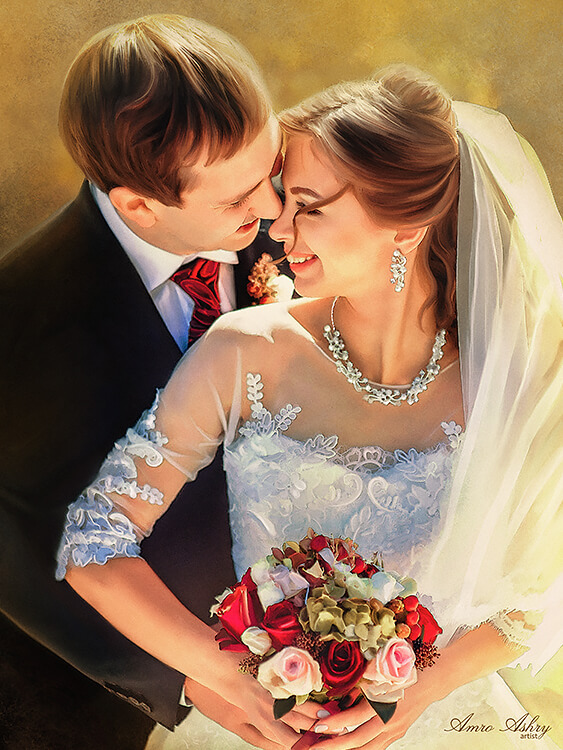 Custom Portrait
Let an artist capture your best wedding or engagement photograph on canvas. An artist created painting of your favorite photo will be a great way to remind you of all the love you have for each other. A photograph is good but custom portrait is special. When someone is painting a portrait for you, it adds depth that is not easily achieved in a photo. Perhaps that is because the act of painting is generally more meaningful than someone taking a photo on their phone, but with a blank canvas you can truly capture a fresh-faced couple fully in love: maybe a rosy cheeked glow, or eyes that sparkle. It is certainly a unique way to let the world know that this is the person with whom you've fallen in love! Such a unique wedding gift idea!  Check out Artist Amro Ashry's stunning portraits HERE.
Original Artwork
Created by an artist. This is a gift that your guests will feel good gifting. It is truly a one-of-a-kind piece that will last a lifetime. You will be supporting an artist instead of a big retail establishment, and at the same time receive a gift that will be a valuable heirloom piece to be passed on to your children. Check out some striking paintings HERE.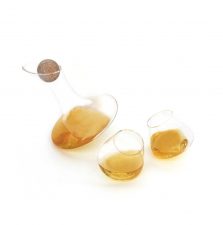 Artistic Wine Decanter
If you want to add some oomph to your living room table, get this revolving wine decanter and glasses on walnut wood by Swoon Living. This is an artisan-made custom blown glass and wood. Swoon Revolving Wine Glasses are hand-blown in Chicago. The wine glasses are sure to make your wine-loving friends jealous. Pour yourself a little wine and sip and spin your evening away.As you play, your wine becomes greater with every turn as more oxygen is brought into the wine. The concept is all about form and function without forgetting to have fun. This item is available via Swoon Living.
Handmade Glass Clock
An artist made clock will add charm to your foyer or dining room. "Art meets function" in this contemporary fused glass pendulum clock. A lovely compliment to any contemporary home! Opaque and translucent glass is individually cut, arranged and fused at 1480 degrees Fahrenheit to achieve the desired look. Every clock is signed on the front and arrives with protective hand covers and the required AA battery. Artist Nina Cambron is the leader in handcrafted fused glass clocks in the Unites States. Ni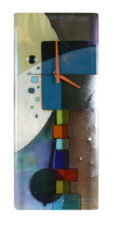 na's sense of design, beautiful color combinations and contemporary style is a gift to cherish. Get this custom made clock HERE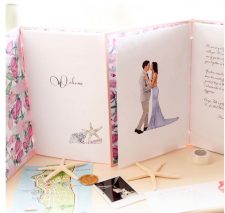 Vow Books
Vow Books are another unique wedding trend that couples have been adopting over the last several years. You will utter the most important words of commitment of your life on your wedding day. Wedding Story Writer vow books are made-to-order specifically for a couple.  Your book will be made to match your wedding style, with the option of a custom cover design. Order a custom or signature vow book or keepsake box at The Wedding Story Writer.
People often ask 'What is a good wedding gift for a couple who has everything'. We believe that a wedding is one of the most momentous occasions in a couple's life, and their wedding gift should be as unique as their  marriage. We invite couples to celebrate it by creating a Mishkalo Wedding Registry. You can rest assured your wedding gifts will be unique, showcasing your personality.
Mishkalo carries a vast collection of unique artwork by highly esteemed artisans from around the world.
Read more about wedding planning ideas and tips at Mishkalo
4 Reasons to get original art as a wedding gift
If you already live together, do you need a registry?
***********************************
**********************************************************************************************