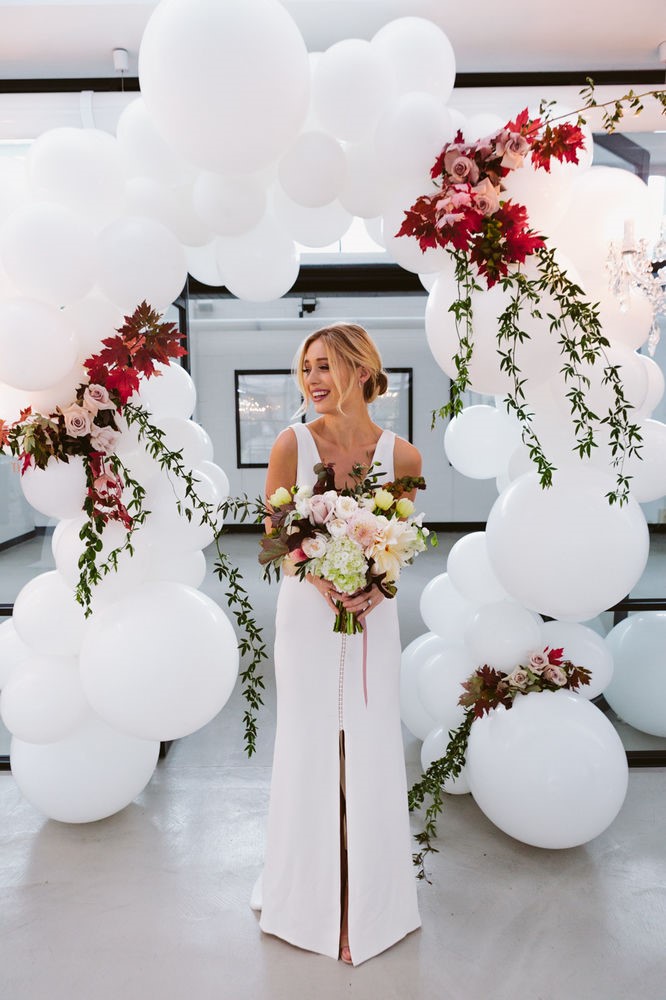 THE HOTTEST WEDDING TRENDS THIS SEASON
What is "hot" and what is "not" for weddings trends change annually, but the trends that are here to stay this year are the most exciting of all. There is a mixture of simplicity and extravagance, making each type of bride's styles trendy for this season. Here are the five most unique and hottest wedding trends and styles from a balloon bonanza to Meghan Markle like wedding that are making all guest's heads turn.
A Balloon Bonanza
Whether they are decorations on a wall, or the main focus at the altar, balloons are here to make a wedding more whimsical and cheery. Since they can match any color scheme, it is used as a great accent of decorations for your guests to admire. Say goodbye to floral statements since balloons are here this season to replace them.
Minimalistic Tables
With many miraculous statement pieces throughout much of the decor for weddings this season, minimalistic tables tie everything together in a very subtle way. The hues of the place settings this season are extremely earthy, including white and brown, greens, and some accents of golds. Trying to make a table setting too elaborate can be overwhelming for the guests, therefore creating a simple space with natural colors eases everyone while they are dining and chatting.
The Next Meghan Markle
Prince Harry and Duchess of Sussex Meghan Markle's royal wedding last spring is still being talked about to this day, and it is evident through style choices in wedding attire this season. A more traditional and modest look has been becoming increasingly popular since the royal wedding, rather than a more sexy and modern look. Specific dress styles include: long sleeves, poofy shoulders, crowns instead of veils, and an elegant bodice. The look of the bride now is as much Cinderella as it is Duchess Meghan Markle, and it doesn't seem like the trend will leave any time soon.
Statement Cakes
In the past years, the hot thing for dessert at weddings was for there to be a little bit of everything. Mini cakes, cupcakes, and cookie type treats would be scattered along the dessert table for all guests to pick and choose. That has recently been replaced with just the opposite, a single eye catching cake. It focuses in on the special moment the newly weds have together when they cut the cake, and what better way to savor that moment than to eat a miraculous looking cake afterwards? Other than the classic white with decorations, multi colored cakes have come along to steal the show as well.
Wireless Weddings
Another hottest wedding trend is to move away from having cell phones and other devices unplugged during the wedding. It is no secret that our time of day has cellphones glued to us at all times. While it is usually never a bad thing, recently it seems to have negatively been impacting wedding ceremonies. Instead of wedding photographers solely capturing the couple and there lovely guests behind the altar, there has been a multitude of cell phones getting in the way of the photos. Now, decorative signs that politely ask the guests to be "unplugged" throughout the ceremony have been very popular more recently since it is a generational problem. This way the hired photographers can do their job and photograph the beautiful moments, without every guest pulling out their phones to do it for them. It is a wonderful idea that will surely stay as the years go on so that no picture perfect moment is ruined by a cellphone. Hope you enjoyed reading about our wedding trends. If you have any others that you would like to tell us about. Please contact us at info@mishkalo.com.