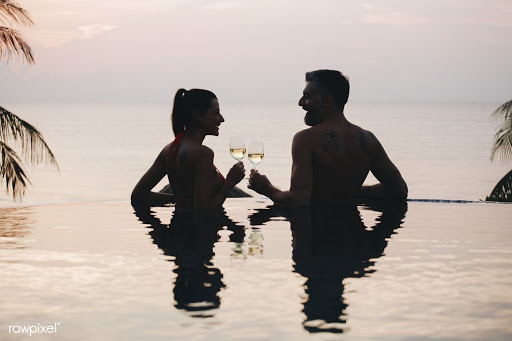 Top Honeymoon Destinations For Beach Loving Couples
If you are a couple considering a beach honeymoon destination and love the sun, here are some cool destinations for you to celebrate your new love together. Honeymoon places can be adventurous  destinations or as calm as soaking up the sun on the beach. Take a peak at all these destinations and find the one that speaks to the both of you!
Dip into Relaxation on the Honeymoon Islands
The movement of water is constant, it flows with us and against us leaving a mystery sometimes. The element of Water has a sensitive and compassionate nature. A teacher to feeling our greatest qualities and the expressing of the truly endless abilities of love. Water has unlimited possibilities and ways to express. The element of Water is where we hold our abilities and possibilities in things. Being able to enjoy many things and literally going with the flow these are top water element themed honeymoon destinations! For you and your partner to soak up the sun while you dip your toes in the ocean.
Fiji
Breathtaking beaches will whisk you away as you drink up the sun on Fiji celebrating your new marriage on your honeymoon beach destination. With horseback riding to discover the island's beauty or windsurfing. Let's not forget, being able to explore the rainforest on foot. Once you have experience the rainforest, jump in the boat and off to sea for an up close personal view to snorkel or scuba. Fiji will let you both float into relaxation celebrating your new marriage.
Don't forget these essentials:
Flip-Flops

Sun Hat

Boat shoes

Waterproof Camera
Jump into this honeymoon adventure- https://www.fiji.travel/
Galapagos Islands
For the ultimate lovers who enjoy the exotic side of destinations. The water element dips you in many places to jump on an excursion across land or sea. A honeymoon destination filled with relaxation  where you can swim with the Galapagos penguins while kayaking alongside sea lions. The Galapagos is right on the water with an adventure with it.
Sea you at the beach with these key items:
Sunscreen

Bathing Suit

Camera

Small Backpack
Book your island honeymoon getaway- https://www.galapagosislands.com/
Emerald Coast, Nicaragua
Why not grab a surfboard and hang 10 while you celebrate your new marriage on the coast of Nicaragua for your honeymoon destination. Share a spot on the sand and soak in the sun of the island while you celebrate your love. If you want to add a spark of thrill to the honeymoon you can hop on a helicopter and go visit the active volcano Cerro Negro for some extreme sandboarding if you two decide to spice up the day with an activity.
Don't forget to pop these items in your luggage:
Bandana

Camera

Sunscreen

Bathing Suit
Learn about the island- https://www.gq.com/story/nicaragua-emerald-coast-travel-guide
Looking for a unique registry idea? Check out Mishkalo.
Mishkalo carries a vast collection of amazing artwork from around the world for you to choose from. 
*********************************************************************************************************************************