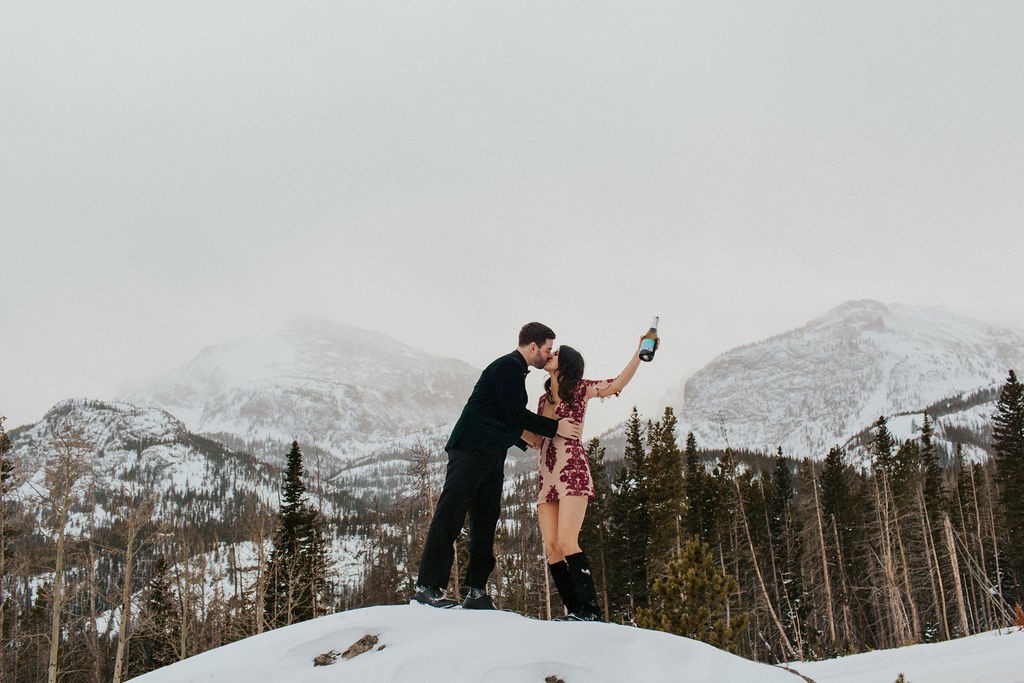 Alyssa & Jake's Snowy Colorado Engagement Photo Session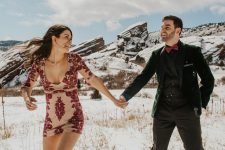 "Wow… what an adventurous pair these two are!  From the freezing cold air, to the hours of driving between locations, to the wild animal encounters, to the snow storm with blistering winds… Alyssa & Jake have officially won the prestigious Brad Hart Co. Most Down for Anything Client Award (if that existed)!  Seriously though, what a fun day this was!" – Brad Hart,  a passionate designer, lifestyle and wedding photographer based in Central Illinois.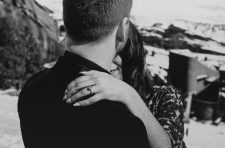 Brad was responsible for taking some of the most breathtaking engagement photos I could have ever dreamed of! I discovered his work on Instagram and knew immediately I wanted him to capture our big day. To future brides, I highly recommend using Instagram as a resource to find your vendors- whether it be photography, venues, or cake! Visually exploring your options is such an exciting way to discover new and unique ideas for your big day.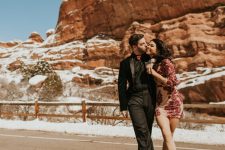 Before agreeing to shoot our engagement session & our wedding shoot, Brad requested a face-to-face meeting with us as a couple. Your relationship with your photographer is one of the most important vendor relationships you'll need to consider for your wedding. Make sure you work with a photographer who is just as invested in this relationship as you are!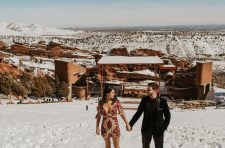 Prior to our wedding day, we opted to have an engagement session far from our home in Chicago. Brad agreed to fly across the country to Colorado to capture our nature-filled engagement adventure. We hiked through snow, mountains, and some of the most beautiful scenery Colorado has to offer.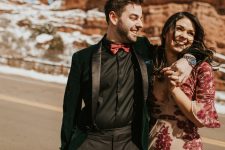 I started my day with a blowout at Dry Bar and put the final touches on my outfit. Then it was off to a quick breakfast in Denver with Jake and Brad. After filling up on croissants and a celebratory mimosa, we packed up the car and set off towards the mountains.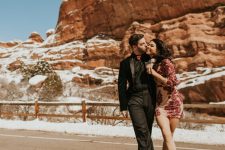 Our first stop was The Red Rocks Amphitheater, where Jacob and I have spent countless days and nights dancing to some of our favorite artists in the world. We all froze to the bone while climbing the sweeping the stairs overlooking miles of Colorado cities and plains. We had a playful snowball fight, raced down the winding roads, and laughed at my decision to wear heels (oops).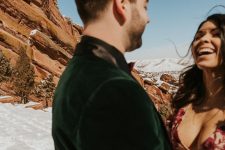 Next stop was Estes Park- we piled back into the car and drove deeper into the Colorado wilderness. Along the way we spotted a group of elk and pulled over for an impromptu photoshoot. These ended up being some of my very favorite photos of the day!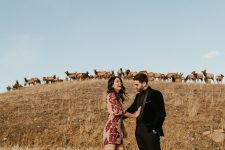 Next up, we headed deep into the snowy mountains. Along our drive, we found a tall rock, which Jacob and I climbed to pop a bottle of champagne.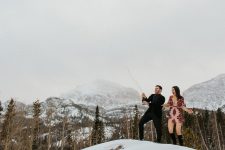 Once we reached our destination in the mountains (A few miles long paths that led to a cluster of frozen lakes), we bundled up into our cold weather gear and hit the trail.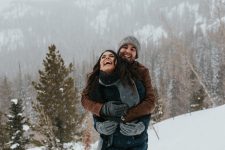 The hike was gorgeous but challenging. Luckily, Brad was up for the adventure. We hiked a few miles through the mountains, losing the trail under the mounds of snow, and trekking through areas where the snow reached my waist. When we finally reached the lake, the wind was blowing so hard that the snow picked up all around us like a blizzard.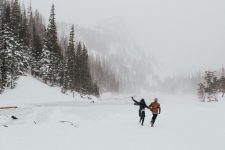 Our hike back was a bit rushed to beat the setting sun, but we were ready to warm our fingers in the warmth of the car. We had such an incredible trip, and recommend an engagement shoot in the mountains to anyone that will listen!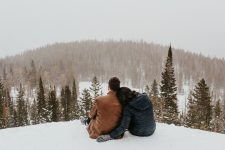 As incredible as our engagement shoot was, we can't help but look forward to our next big adventure- the wedding! Jake and I will be married in September at the Chicago Botanic Garden. We're so excited to have Brad capture our day, and we're looking forward to spoiling ourselves with our wedding gift, an art piece from Mishkalo.
Mishkalo is a unique wedding registry for art and helps engaged couples get a wedding gift that will tell their unique story. Just like these photos, our gift will tell our story and serve as a reminder of the adventures we have together, and our love for one another. Cheers to an amazing year!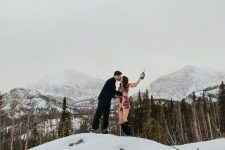 *************************************************************************************
Here are some fun ideas to incorporate for your wedding: Click Here!
Want to explore a unique wedding registry for original art from around the world ? Check out Mishkalo.