ABOUT US
A Unique Art Wedding Registry.
"Couples getting married today are older, already living together and have an established home. They prefer wedding gifts that are unique and meaningful than utilitarian items."
How it started ...
The idea for Mishkalo started, interestingly, with a thank you note we received from a couple. The note thanked us profusely for the thoughtful blender we had given them as a wedding gift. We thought it was a nice gesture and that was that.
And a few days later, we found the gift receipt. We had bought them a set of wine glasses, not a blender. That struck us as a double irony – neither the couple nor we remembered what the gift was. Perhaps because the couple did not need a blender or wine glasses; and we probably did not spend a second to think ponder what would be an appropriate wedding gift for them – we probably picked the next item in their department-store wedding registry that nobody else had bought yet.
How it started ... TL;DR
Old ideas about wedding gifts do not make sense for modern couples.
... Why art?
The traditional wedding gifts were utilitarian items meant to help a young couple start a new home. What would make a home for a modern, established couple? We thought it is anything that uniquely defines them. Although both of us had art in our backgrounds, when we lived in China, we had become art collectors. Now we think of the art we have as something that's uniquely ours.
We talked to several couples and artists and found that the idea of original art as wedding gifts was very well received by both.
Here is  how we will measure our success. If your home is on fire and you can save only one physical item. What would that be? We hope it's the art you received as your wedding gift.
TL; DR ... Why art?
Today's couples prefer something unique and memorable as wedding gifts. Fine art is a great choice, especially if guests can chip in and crowdfund to buy it. See how it works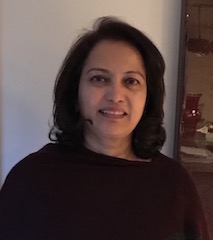 Charu Swaminathan, Founder & CEO
Charu is a professional musician, jewelry designer, software engineer and an entrepreneur. Trained in Indian classical vocal, she has performed widely and also teaches music. As a jeweler, she trained in silversmithing and electro-plating and her contemporary jewelry has been showcased in several boutiques in Chicago. With a Master's degree in Information Systems, she worked as a database analyst and designer for Bayer, Kraft Foods and Wachovia Bank. As the CEO of Mishkalo, she uses her artistic and technical skills to manage all aspects of the new venture.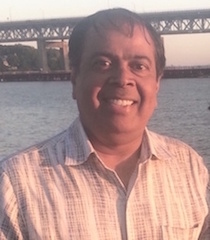 Kishore Swaminathan, Co-Founder, CTO & Advisor
Kishore is a scientist and an entrepreneur. He served as Research Director and Chief Scientist of Accenture (a Fortune 500 company). He has been an advisor to startups in the Chicago area and serves as a mentor at 1871, a start-up incubator in Chicago. In the past, he cofounded Artsonia (www.artsonia.com), a kid's online art museum that has since grown into one of the largest collections of art anywhere in the world with nearly 50 million pieces of artwork from kids from over 100 countries, some of who have since become professional artists. He has a PhD in Computer Science and has over a dozen patents to his credit.
What is your Art Persona?