Susan Flanagan
Chicago, USA
An Artist with a Split Personality
Every artist has been given a gift, the ability to see an occasional glimpse of the beauty that originates in God, the sole creator of all things.
Susan Flanagan – Paints in many mediums and styles!



Susan states she has a split personality in art because she continues to paint in many mediums and styles. She loves to experiment and has been challenging herself to use, oil, oil pastels, acrylics, collage, and any combination.  Although most of her work is representational, she does enjoy creating abstracts.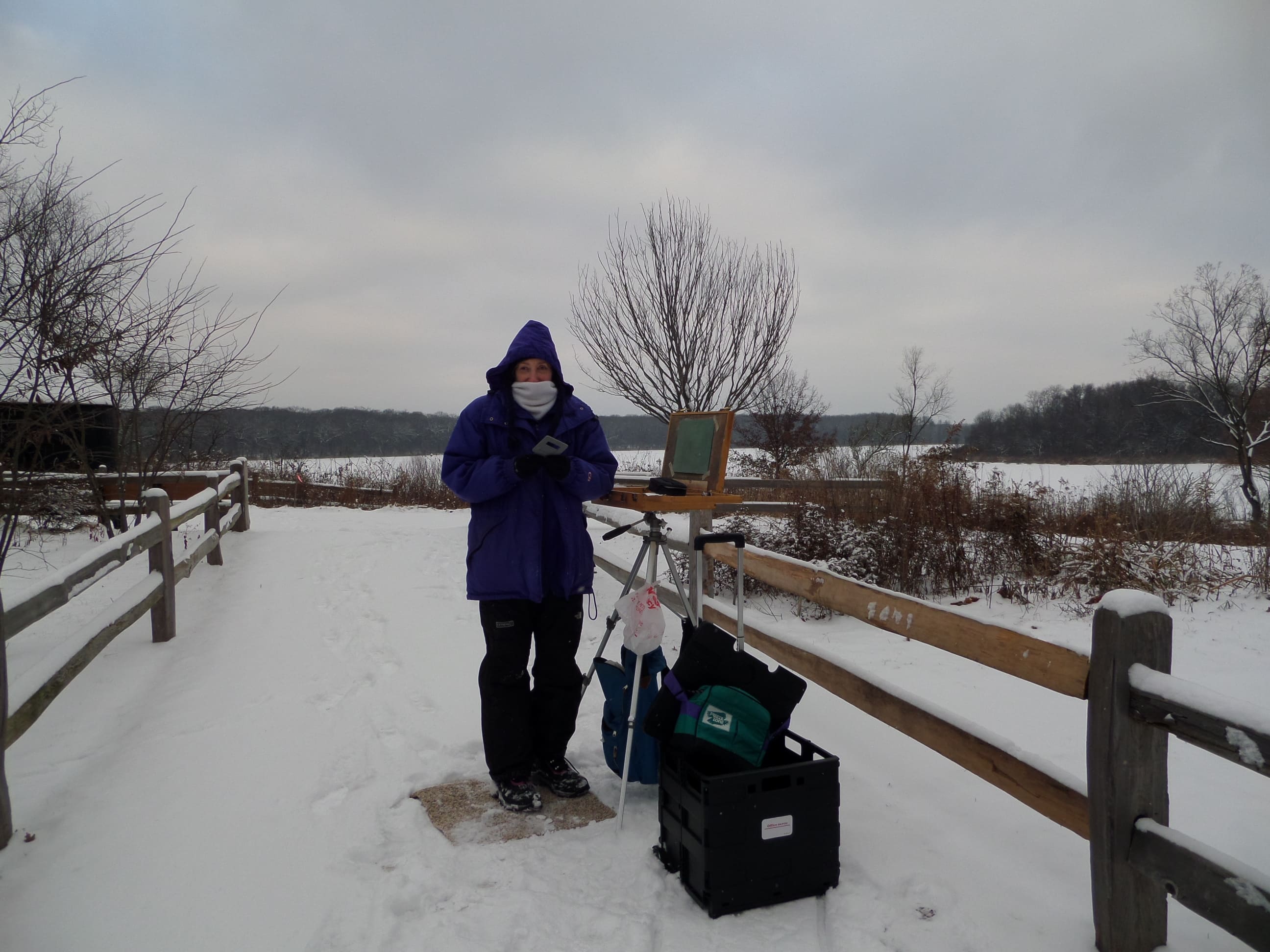 At what age did you know you wanted to be an artist?
In my heart, I knew I was an artist as a child. As a teenager considering my future, I seriously considered art as a career. I spent summers filling up sketch books and covering canvases. In the end, I became a physical therapist but always had art classes in my life. When I retired I became a full time artist.
What is the earliest artwork you did that you can remember?
I can still remember kindergarten art projects that fascinated me and kept me busy for hours. I layered one color of crayon over another. Then I scratched the top layer back in places to reveal the bottom color. I didn't know that was sgraffito. I was always filling up coloring books.
Which classical or contemporary artists have inspired you?
Richard Schmid inspires me. He is capable of expressing so much in a painting with an economy of beautiful brush strokes. His paintings tell a story. I would love to own any of the paintings that he did of his wife Nancy.
How would you describe your artistic style?
I am an artist with a split personality. Sue is very much of a representational painter. Suzy, my alternate personality loves abstract and nonrepresentational work. No matter my style or subject, I love vibrant color and contrast between light and dark. I enjoy creating the illusion of depth and I never stop experimenting.
When did you first sell an artwork? How did you feel?
I don't remember my first sale. At first I created paintings for anyone who asked me to do one. My memorable sales are when someone tells me how they were moved by my work. One client said that no matter how bad he was feeling that day, all he had to do was look at my painting and he would feel better. That is what it is all about for me.
What's your workstyle? Do you work on one piece at a time or work simultaneously on multiple pieces?
I work in different mediums and alternate depending on my mood, subject, or the technique. I love to experiment. So, I usually have multiple pieces going at the same time. I have stations in my studio for pastel, oil, and acrylic. I am also an avid plein air painter because I love nature and the landscape. My friends and I go outside frequently in the local forest preserves to paint. I try to paint from life, not photos
How do you get the inspiration for a new piece?
I'm rarely at a loss for inspiration. Mostly nature inspires me. Places I have visited are particularly meaningful. Sometimes a concept or technique will motivate me. Other artists, magazines, books, my photos, and Youtube are part of my education and inspiration. However, I never copy another person's work.
Tell us a bit about your personal life ...
I am married with two sons and one grandson. I was a physical therapist for 30 years. During that time I took art classes in my free time. When I retired early I dedicated my life to art. I have taken over a dozen workshops from well known contemporary artists.
Sue states, "Painting outdoors is an intense experience that becomes a vivid memory." Therefore, her paintings are vivid memories to her and to her collectors. Susan loves to capture dramatic light and beautiful color to create a mood and a story.
A few pieces from Susan Flanagan's gallery
Misty Morning On The Creek
Why they love Susan Flanagan's art
Virginia Franceschina, LaGrange, Illinois
"As always, your paintings are beautiful. Looking at them is a bit like meditation. I just want to stop and lose myself in them. They are calming and relaxing to a busy mind. Thank you for sharing them".
Deborah Lipien, Orland Park, Illinois
"Sue, How wonderfully you work fellowship, spirituality, and art together!!!  I wish Joe and I were able to participate. I love your spirit and ever increasing confidence as an artist – it makes you so creative and free".  
More about Susan Flanagan
Shows & Exhibitions
Solo show at LaGrange Art League and in group shows at the Vogt Visual Art gallery, McCord gallery and in other local venues. I have also been in shows with the Great Lakes Pastel Society. I have received many awards.
I teach in my studio and at the Center in Palos Park, Illinois. I am published in the book "How did you paint that? 100 ways to paint a landscape" published by International Artist magazine.
I have initiated an art centered ministry at my church that provides opportunities for people to grow in their spirituality and explore their creativity.
Twice I have been the artist in residence at the Lowe House Project in Tubac, AZ Once was to paint the historic adobe houses and the other time to record the condition of the Santa Cruz river.